A Rare Sanctuary: Black Box Edition
This gorgeous gift box is full of high-end homewares that will help transform any space into a sophisticated sanctuary. Designed to compliment - and elevate! - virtually any decor, this super-premium set includes your choice of stoneware mug, a hand-loomed tea towel, luxury candle by Apotheke, linen & room spray in P.F. Candle Co.'s signature scent, apothecary matches, olive oil and interior design handbook.  Every product contributes to a good cause, and an insert is included that describes the mission behind each one.

This option is currently sold out.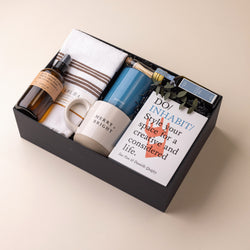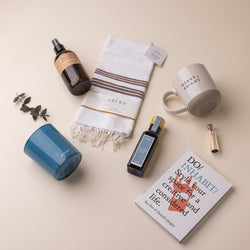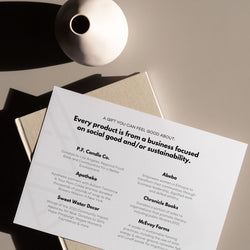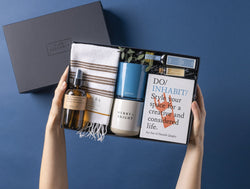 What's inside:
Choice of stoneware Mug by Sweet Water Decor
Choose the message for this generously sized mug. Dishwasher & microwave safe. 2021 winner of the Community Impact Award by NY Now, Sweet Water Decor donates to Girl's Hope Pittsburgh, Magee Women's Foundation & more.
Tea Towel by Abeba
Hand-loomed from Ethiopian Cotton, this elegant tea towel is soft and earthy, in a classic neutral design. Abeba Collection empowers women in Ethiopia to transform their communities through business leadership, dignified work, and skilled artisanry.

Linen and Room Spray by P.F. Candle Co.
Features this popular brand's sophisticated signature fragrance - Teakwood & Tobacco - a warming blend of leather, teak and orange. P.F. Candle donates to Los Angeles Regional Food Bank and Communities for a Better Environment.

Orange Blossom Neroli Candle by Apotheke
Large 11 oz. soy candle with a complex and elegant scent featuring notes of sweet orange flower, neroli, delicate greens & sandalwood. Apotheke has donated thousands of pounds of soap to the Bowery Mission in N.Y. and partners with Autism Tomorrow & Your Mom Cares.
Do/Inhabit by Sue Fan & Danielle Quigley
Room-by-room guides for things like styling objects, hanging art & laying a supper table, with an emphasis on nature as a source of inspiration. Chronicle Books supports organizations that promote literacy, including public libraries.

Extra Virgin Olive Oil by McEvoy Farms
Mild and perfect for everyday cooking or baking. The most prominent flavors in this year's oil are green and ripe olives with hints of green tea and apple. McEvoy Ranch is a leader in sustainable farming practices, including the use of solar energy, production of their own organic compost, and using above-ground, rainwater fed and runoff ponds vs. groundwater for irrigation purposes.
Grey Tipped Matches by Enlighten the Occasion
In a small apothecary jar with cork lid.
Preserved eucalyptus
Handwritten card
Perfectly packed in a custom, super-luxe keepsake black box.