A Rare Vintage
Any wine drinker will be delighted by this thoughtful little trio. Stars a teakwood wine tumbler from S'well, plus a couple of artisanal wine-flavored goodies. Every product contributes to a good cause, and the box includes an insert that describes the mission behind each one.
This option is currently sold out.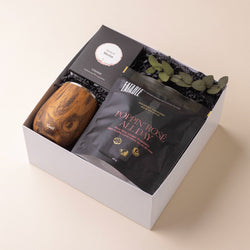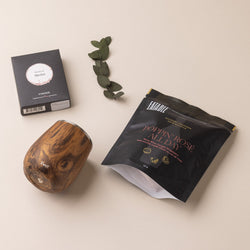 What's inside:
Teakwood Wine Tumbler by S'well
Perfect for indoors or out, this 9oz tumbler keeps drinks colder longer & features an extra thin lip for comfortable drinking. S'well has donated more than $1.35M to UNICEF's efforts to provide safe drinking water in under-resourced communities worldwide.

Choice of wine gummies by Vinoos
Sophisticated gummies with surprisingly complex, true-to-life flavors. Choose from Merlot, Sparkling Wine (champagne), or Sparkling Rosé. Vegan, gluten-free and alcohol-free. 50% of Vinoos's production is fulfilled by persons with a mental or physical disability.
Choice of popcorn by EATABLE 
Choose from Rosé (candied rosé wine coating; slightly fizzy & tart, notes of watermelon + strawberry), Sangria (Merlot candied coating; notes of apple & blood orange + a dash of cinnamon), or Champagne (coated in premium Belgian white chocolate infused with natural champagne extract & sugar crystals that literally pop in your mouth). A portion of sales is contributed to Second Harvest, Canada's largest food rescue organization.
Preserved Eucalyptus
Handwritten card
Perfectly packed in a white box with white band + letterpress black foil.