A Rare Wonderland Mini
Indulge friends, clients or employees this winter with this elegant holiday gift box designed to brighten even the coldest winter days. Features luxurious gender-neutral spa products and indulgent sweet treats - all in a dazzling, modern Winter Wonderland theme. Includes the creamiest white chocolate hot cocoa plus a modern matte gold teaspoon, gender neutral pine-scented hand cream, special edition artisanal gummy bears and the most decadent chocolate peanut butter bar in sparkling blue gift wrap.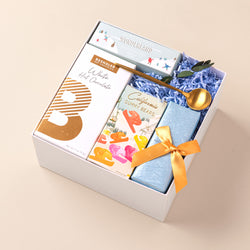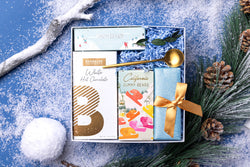 What's inside:
Wonderland Hand Cream by Finchberry
This hand cream's luxurious blend of sunflower and olive oils soothe and calm tired skin. For those who love the perfume of the forest, Wonderland — inspired by pine-scented Fraser fir trees — allows the brisk aroma of evergreens to linger on the skin.

3oz. White Hot Chocolate by Beshaler
This creamy, white hot chocolate is a perfect mix of full rich taste that isn't overly sweet. Made up of ground white chocolate and milk, any white chocolate lovers will be smitten over this product.

Winter Gummy Bears by California Gummy Bears
These perfectly chewy gummies are 100% natural and gluten free, made with the freshest real fruit available. This limited edition seasonal mix is made up of raspberry, strawberry, pink grapefruit, tangerine, mango, and peach. 

Tom Bumble Bar in wrap and bow by Oregon Bark
Spellbinding swirl of organic peanut butter, pure Madagascar vanilla and candied organic sugar, wrapped up in organic, fair trade chocolate. Think shards of candied peanut butter perfection, crunching and dissolving while you can't stop eating. Includes 2 bars: crunchy and creamy.

Matte Gold Teaspoon by Kriya Veda
Extra wide mouth perfect for scooping and stirring coffee and tea. In a modern matte gold finish.

Preserved eucalyptus
Handwritten card
Packed in a white box with a white band and metallic silver foil.