A Rare Roast
From casual coffee drinkers to serious java aficionados, this super sophisticated gift set is guaranteed to impress. Features an array of sleek products, including the stunning copper-bottomed Joey mug, chocolate covered espresso beans, coffee candle, coffee chocolate bar, coffee cleanser and of course actual coffee from renowned roasters, Onyx.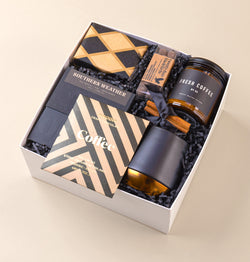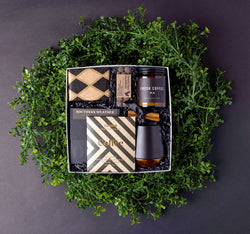 What's inside:
Joey Mug by Fellow
This sophisticated double-walled ceramic mug keeps beverages insulated to maintain heat without ever burning the hand that holds it. Its sleek, polished copper bottom complements the matte black ceramic finish, making this your go-to mug when entertaining.

Coffee Chocolate Bar by Goodio
Starring sweet, smooth and powerful Espresso Verde organic coffee beans with cashew nuts for creamy taste. Vegan and 100% organic.

Southern Weather Coffee by Onyx
This whole bean coffee balances the relationship between modern citric acidity flavors with full bodied chocolates. This comfortable yet surprisingly complex and sophisticated coffee is approachable to all.

Butter Coffee Bar Soap by The Coffee Scrub
100% organic coffee soap aids with getting the age-defying antioxidants deep in pores, washing away toxins while giving skin a jolt of caffeine. An excellent exfoliant, this soap reduces dead skin layers to leave skin feeling exceptionally smooth.

Chocolate Covered Espresso Beans by Twenty Four Blackbirds
Santa Barbara based 24 Blackbirds coats local coffee roaster Low Pigeon's Malawi AAA espresso beans with 75% Öko Caribe chocolate for a combo that is is out of this world with deep coffee and chocolate flavor.

Fresh Coffee Candle by Sweet Water Decor
With sweet notes of caramel creme, mocha latte and rum blended with freshly brewed Hawiian Kona coffee, this was made for coffee lovers. Phthalate free and non-toxic, with a clean-burning cotton wick. Up to 50 hours of burn time.

Cinnamon sticks with ribbon
Handwritten card
Packed in a white box with black band + metallic gold foil.