A Rare Fireside Grand Deluxe
This is the ultimate in festive holiday gifting and is a perfect choice for teams, families and V.I.P.'s on your list. It manages to strike the perfect balance of cozy yet chic, and merry yet modern - making it a home run for both friends & family and clients & colleagues. This giant gift set has everything they'll need for a seriously snug & cheerful winter night in, including an ultra-cozy blanket, games & puzzles, artisanal treats, seasonal candle, hot cocoa plus your choice of stoneware mug, and more. Packed to impress in our stunning Grand Deluxe gift box.
This option is currently sold out.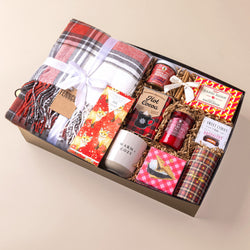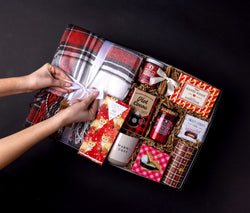 What's inside:
Sugar Cookie Chocolate Bar by Compartés
This smooth, creamy premium milk chocolate bar is adorned with homemade sugar cookies inside and topped with crystallized sugar.
General Knowledge Trivia Game by Chronicle Books
This game will expand the mind and test wisdom with 140 question cards to challenge family and friends on holidays away or fun nights in.

Plaid Holiday Edition Gummy Bears by California Gummy Bears
These juicy apple & strawberry gummies are coated in crunchy sugar crystals and made with real fruit for a taste that's ultra fresh and fruity. Organic, vegan, and made from plant-based ingredients.
Plaid Tin Hot Cocoa by McSteven's
This cocoa is made from premium ingredients to create an indulgent cup of hot chocolate that's perfectly rich & creamy.
Choice of Stoneware Mug by Sweet Water Decor
This generously sized 14oz. stoneware mug is microwave and dishwasher safe. Choose from "Warm + Cozy", "Merry + Bright", or "Rise + Shine".

Raspberry S'more by Sweet Lydia's
A large handmade, gourmet raspberry marshmallow is sandwiched between graham crackers and hand-dipped in dark chocolate for a ridiculously delicious holiday treat.
Cranberry Mimosa Candle by Northern Lights
This 5oz. soy candle has a 35 hour burn time and a warm, festive holiday scent featuring notes of champagne, cranberry juice, lime peel & apple.

Mini S'more Puzzle by Areaware
Mini jigsaw puzzle designed to be completed in about 20 minutes or less. This limited edition S'more puzzle is die-cut and photo-realistic.

Chocolate Raspberry Honey Cream Spread by Bumbleberry Farms
Awarded the 2023 SOFI Award, this creamy chocolate-raspberry-honey spread is one of the best things you've never tried. Incredible on desserts, fresh fruit, stirred into coffee - or straight from the jar!
Plaid Throw Blanket by Fennco Styles
Warm & cozy throw blanket measures 40"x60".
Cinnamon sticks tied with ribbon

Packaged in our grand deluxe black box with a black band, letterpress gold foil, and handwritten card