A Rare Vintage: New Edition
When it comes to gifts for wine lovers, getting it right isn't always as straightforward as it may seem. Unless you know exactly what type of wine they like, sending a bottle might not hit the mark - and it's definitely not the most original approach. This beautifully packaged set is the answer, with four high-end products guaranteed to delight every wine drinker on your list. Includes the sleek teakwood wine tumbler from S'well, a fun-for-all after dinner wine trivia game, addictive potato chips made specifically to pair with wine, and a stunning bottle stopper.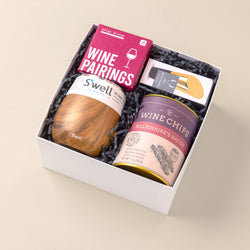 What's inside:
Teakwood Wine Tumbler by S'well
Perfect for indoors or out, this 9oz tumbler keeps drinks colder longer & features an extra thin lip for comfortable drinking. It has triple-layer insulation for thermal performance and condensation-free handling, and is perfect for drinking wine inside, outside or on the go (wine on the beach, camping trips ... you name it!)

Wine Pairings Trivia Game by Talking Tables
A game to complement any occasion or dish, this fun after-dinner trivia set contains contains 100 wine pairing cards to get the most from your taste buds.

Billionaire's Bacon by Wine Chips
Inspired by the mouthwatering allure of crispy, maple-glazed bacon, this hand-crafted delight surprises the senses with its uncanny resemblance to the iconic dish, while remaining completely vegetarian-friendly. A gourmet snack made to pair with wine and ready at a moment's notice!

Bottle Stopper by Viski
High shine polish and an elegantly simple slanted crown transcends the average wine accessory, while its extra heavy weight and soft-touch silicone sleeve ensures a snug fit. 
Handwritten card
Perfectly packed in a white box with white band + letterpress black foil.