A Rare Chef Grand Deluxe
There's no better way to delight the culinary enthusiasts on your list - from casual home cooks to serious chefs - than with this Grand Deluxe gift set. It features a refined collection of cooking essentials that they'll use often, but are elevated enough to impress even those with the most well-stocked kitchens. Includes Le Marké's coveted organic olive oil * vinegar set, fancy sea salt, sauces from 3-Michelin starred Eleven Madison, the best flip & spatula they'll ever use, a gorgeous recipe book, and more. All perfectly packed in our stunning Grand Deluxe gift box.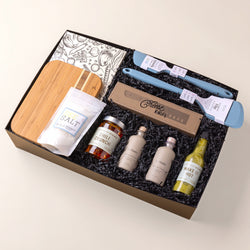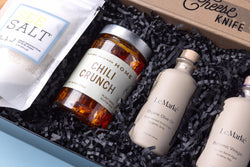 What's inside:
My Secret Ingredient Notebook by The Scribes
The kitchen is the heart of the home, and My Secret Ingredient reminds us of the treasured time spent there. This soon-to-be family heirloom will collect all of their favorite recipes in one detailed, efficient, and beautiful place. Packaged in a sleek gloss sleeve, this notebook is built to inspire and treasure the tastiest of memories.
Bamboo Cutting Board by Totally Bamboo
Perfect for cutting small ingredients like herbs, garnishes, lemons & limes, garlic, etc. Features a beautiful inlay of end-grain bamboo for a stylish splash well suited for serving in addition to basic food prep needs.

Ultimate Flip & Spatula Set by GIR
GIR makes silicone kitchen tools that are elegant, easy to clean and virtually indestructible. The Ultimate Flip & Spatula set are thin by not flimsy, sturdy but not clumsy, and made from the best silicone in the galaxy.

The Cheese Knife by W&P Design
The Cheese Knife is designed to be the only knife you'll need for your next cheese board. The finely sharpened edge cuts cleanly through firm cheeses and the pointed tip lets you break pieces off the most hardened aged cheese and spear them for serving.
French Sea Salt Pouch by See Salt
This salt is almost snow-like in texture since it still has the tiniest bit of moisture left in it - that's because it truly is hand raked off the surface of a beautiful salt marsh on Ile de Re, a small salt harvesting island in France.

Chili Crunch Oil by Eleven Madison Home
From 3-Michelin Star rated Eleven Madison comes this crunchy & flavorful chili oil that's not too spicy, so you can add it to just about anything.

Make it Hot Sauce by Eleven Madison Home
This herbaceous green hot sauce is made with jalapeño, cilantro, mint, and parsley. Adds a bright kick of flavor & acidity to salads, dressings, sandwiches, and everything in between.

Vinegar & Olive Oil Set by Le Marké
Petite versions of La Marké's organic Sicilian Olive Oil (made from cold-pressed, single-harvest 100% Biancolilla olives) and Balsamic Vinegar (sourced from Northern Italian Trebbiano grapes and barrel-aged for 15 years).
Handwritten card
Packaged in our grand deluxe black box.