A Rare Brilliance
This is one gift that is guaranteed to stand out from the clutter. It's refreshingly original and endlessly versatile, with high-design products that serve as creativity-sparking mood boosters. Whether you're shopping for a creative colleague, a design-obsessed client, or a fun-loving friend, this is bound to be one of their favorite gifts of the year.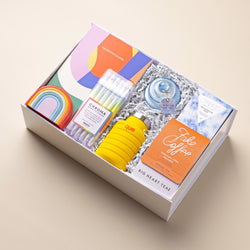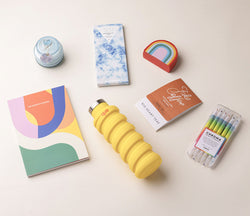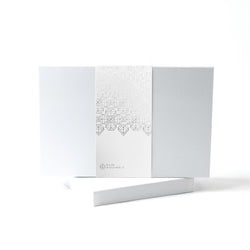 What's inside this gift box:
Creativity Journal by Poketo
An icebreaker for creativity to help you loosen up and unlock your unique + creative self, this journal features prompts that engage, inspire, and instigate. Truly fun and effective (never cheesy), it's designed to help anyone discover that there's no one way to stay creative.

Collapsible bottle by Que
Meet the original collapsible bottle, with a patented spiral design allows the full size 20oz bottle to be compressed to just 5 inches in height, making it ideal for taking on-the-go. It's dishwasher safe, BPA free, has a wide mouth for ice cubes, and is temperature resistant up to 400℉.

Rainbow stress toy by Band.o
This bright and squishy little toy delivers instant anxiety relief in the form of a cheerful little rainbow. It's made of slow rising polyurethane foam, which basically just means that no matter how tight you squeeze it, it'll always go back to its original shape.

Chroma markers by Poketo
These six double-ended markers in vibrant, water based inks have thick tips on one side and thin tips on the other. Perfect for color coding, note taking, doodling & more.

Fake Coffee tea sachets by Big Heart Tea
It looks and feels like a cup of coffee, but it brews like an herbaceous, chocolaty tea dream come true. Fake Coffee's energizing combination of cacao and dandelion root may just inspire you to get it done, whatever it is. Buzzfeed even called it "life-changing."
Fresh Air + Sea Salt candle by Paddywax
Crisp, gender-neutral scent of ocean air, lime and lemon with middle notes of sea spray, sea moss and driftwood. Glass jar can be reused as a catch-all once the candle is done. 3oz candle has approximately 21 hours of burn time.

Marshmallow Crisp chocolate bar by Compartés
One bite of this dreamy chocolate bar will have you floating on air! Reminiscent of a favorite childhood treat, this bar has bits of crisped rice cereal and gooey marshmallow swirled into Comparté's famously creamy milk chocolate.
Handwritten card
On our signature luxury linen card stock.