A Rare Workspace
*Selected as the Best Luxury Gift Basket for Posh Professionals by Harper's Bazaar 2023* The Rare Workspace gift box is the perfect luxe-yet-practical gift for any modern executive, speaker, or ambitious project starter. This sleek and sophisticated set includes high-end desk accessories they'll use often, like a travel mug, notebook and screen wipes, plus a gorgeously packaged craft chocolate bar.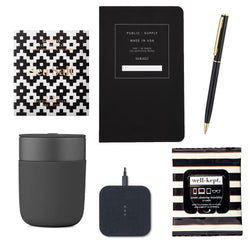 What's inside:
12 oz. Travel Mug by W&P 
A super stylish & eco-friendly update to metal to-go mugs or disposable plastic cups. This 12oz. travel mug is made of durable ceramic wrapped in protective silicone that's feels super soft soft in the hands, plus a BPA-free press on lid.

MAG:1 Magnetic Charger by Courant
The MAG:1 is a low profile magnetic charger wrapped in designer-quality Belgian Linen and a durable ABS coated frame. It effortlessly blends in wherever it's placed.
Soft Cover Notebook by Public-Supply
Printed in New Jersey and stocked with rich 60# natural cream paper. Elegant but sturdy, they're perfect for everyday use. Public Supply channels 25% of net profits to high need classrooms focused on creativity.

Buckhead Screen Wipes by Well-Kept
Contains 15 pre-moistened towelettes useful for cleaning a variety of electronics and lenses, and comes in a stylish black and cream striped package.

Sea Salt Chocolate Bar by Goodio
A beautiful harmony of cacao beans from the Congo and sea salt from Icelandic fjords, harvested by hand. Dairy free, gluten free and soy free.

Slim Black Desk Pen
Sleek black and gold desk pen with a slim profile and ultra smooth writing ink.
Handwritten card
Perfectly packed in a matte white box + belly band letter pressed with black foil.