A Rare Purpose Deluxe
Perfect for discerning clients, executives, board members and more. This smart selection of high-end products was specifically curated for modern professionals who appreciate form as much as function. Best of all? Every item in this gift, from the special edition notebook to the decadent truffles to the sleek travel mug, gives back to a good cause. Includes an insert describing the mission behind each product.
This option is currently sold out.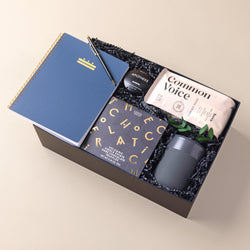 What's inside:
D.C. Notebook by Appointed
This classic lined notebook in Oxford Blue is foil stamped with the Washington, D.C. flag. Net proceeds of this journal support Live It Learn It, a local non-profit that provides carefully-crafted experiential learning units to students in D.C.'s traditionally under-resourced communities.

Charcoal Travel Candle by Apotheke
Cedarwood and sandalwood combine with notes of smokey amber and oud to build a broody, full-bodied fragrance, hand poured in a travel-friendly compact mini tin. Apotheke has donated thousands of pounds of soap to the Bowery Mission in N.Y. and partners with Autism Tomorrow & Your Mom Cares.

Volcanic Truffles by The Chocolatier
Luxurious chocolate water ganaches made with single estate cocoa from the Solomon Islands. Growing in rich south Pacific volcanic soils brings notes of red fruits, citrus and plum. A portion of proceeds is donated to the education & materials for school children in India.
Terra Blend Whole Bean Coffee by Common Voice Coffee
An inviting organic & Fair Trade dark roast that boasts deep flavors of toffee, dark chocolate, and earthiness. Common Voice uses bio-based packaging and pays an additional 5% on top of the cost of green coffee to farmers so that they can re-invest in their land.
12oz Porter Mug by W&P Design
Ceramic mug wrapped in soft-touch silicone and topped with a leak-resistant sipper lid. W&P donates a portion of sales to support City Harvest food rescue initiatives and participates in quarterly City Harvest food rescue events.
Choice of Pen
Choose from a slim profile black desk pen, with a sleek profile and black ink, or The Scribes' Quill pen (+$20), an executive-worthy, evenly weighted aluminum pen with ultra smooth writing ink that's built to last.
Preserved eucalyptus
Handwritten card
Perfectly packed in a black box with black band + gold metallic foil.