A Rare Toast
Raise an elegant and memorable toast from afar with this shimmering, champagne-inspired gift. At once playful and luxe, this stylish "celebration in a box" is the perfect way to say "congrats", "thank you", or simply - "salut!"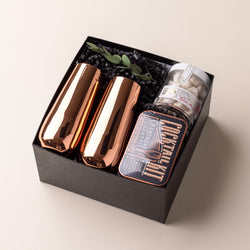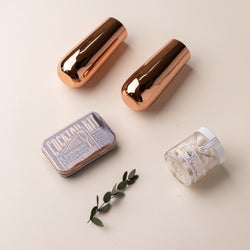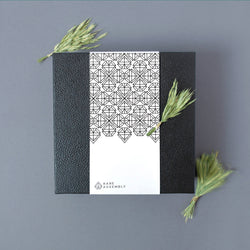 What's inside:
Set of Two Copper Champagne Flutes by Viski 
Polished and perfectly rounded to fit in your palm, the gleaming copper plating on these stemless flutes beautifully catches light to evoke luxury and warmth - all while keeping bubbles extra cold.

Sparkling Champagne Drops by Indulgencie
These addictive gummy candies are coated in bubbly white nonpareils for a delectably delicate crunch. Packaged in a beautiful & recyclable glass jar.

Champagne Cocktail Kit by Cocktails2Go
This travel-friendly kit includes the top-shelf ingredients and instructions you need to craft and enjoy four champagne cocktails: aromatic bitters, sugar cubes, and a champagne flute charm – just add the bubbles!
Dried greenery
Handwritten card
On our signature luxury linen card stock.
Packed in a black box with white band + letterpress black foil.