A Rare Peace Deluxe
This is it: our most luxurious spa gift ever. Gorgeously curated with a refined selection of truly luxe products from sought-after clean beauty brands, this seasonal set is full of beautifully designed self-care must-haves. A Rare Peace Deluxe is as far from a generic bath gift as you can get - it's what you give to the most hard-to-impress product snobs on your list. Features an opulent body oil, chic cashmere + wool socks, botanical facial steam, imported Italian lip balm, exotic scented candle, artisanal chocolate bars and more - all in an elegant holiday color palette and packed in our sophisticated black and gold Deluxe gift box.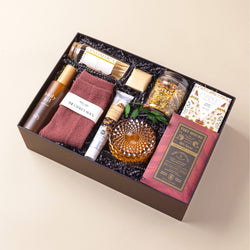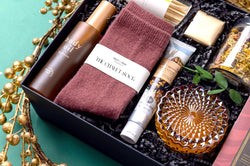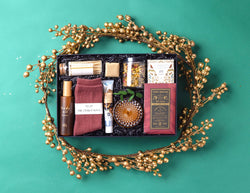 What's inside:
Daydream Body Oil by Ginger June Candle Co.
Hand crafted in small batches, this dreamy body oil can be applied to dry skin for instant nourishment & a gorgeous glow. Its calming, earthy scent comes from natural essential oils combined with shea, acai, argan, jojoba, & blackcurrant oils.
Crème Brûlée Chocolate Bar by Compartés

Compatés' award-winning milk chocolate is infused with decadent crème brûlée + brown sugar

Cashmere Wool Socks by Knot + Hem

Cozy socks made chic: these ultra-soft socks are made from a luxurious blend of wool and cashmere. They're super warm and comfortable, but don't sacrifice style thanks to their sleek profile and sophisticated colors.

Earl Grey Chocolate Bar by Tiny House Chocolate

The addition of bergamot gives this artisanal chocolate bar a unique, herbaceous flavor reminiscent of Earl Grey tea.

White Spruce Hand Cream by Mangiacotti

An intensive cream that instantly soothes and moisturizes dry, chapped hands with a blend of shea butter, chamomile extract, and essential oils. Woodsy scent of herbaceous pine and spruce, combined with notes of rosemary, carnation, and cedar.

Botanical Facial Steam by Palermo Body

Steam naturally eases the senses and relaxes pores, allowing the skin to fully benefit from the therapeutic, anti-inflammatory, and vitamin-rich properties of this concentrated dried flower and herb blend (100% organic).
Havana Petit Shimmer Candle by The SOi Candle Company
Housed in a sparkling diamond-cut vessel, this 8z. candle has up to 40 hours of burn time and features an exotic, deep and slightly spicy scent of ylang-ylang, tonka and tobacco leaf.
Almond Lip Balm by Dermo Suavino
This imported Italian lip balm is made with more than 98% natural ingredients and enriched with almond oil that helps nourish, soften and protect lips.

Safety Matches by Andaluca

60 oversized white-tipped match sticks in a display-worthy glass jar with striker on the back.
Preserved eucalyptus
Packaged in our keepsake, ultra-luxe matte black box with black foil logo and a handwritten card.