A Rare Honey Mini
The Rare Honey gift box features a modern and luxurious collection of honey-infused products that convey a sentiment as sweet as its namesake. Includes honey caramels, honey honey face mask, matches and your choice of scented candle.
This option is currently sold out.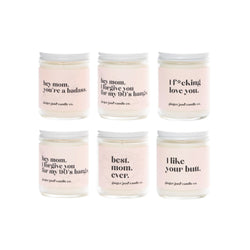 What's inside: 
Honey Sheet Mask by Lapcos
This nourishing lyocell sheet mask is powered by honey extract, hyaluronic acid + calendula. Leaves skin feeling velvety soft, like the rich texture of honey.

Honey Caramels by Anellabees 
These honey caramels combine the perfect amount of honey, organic sugar, grass-fed butter, and heavy cream for a classic caramel taste, only better!
Choice of Scented Soy Candle 
Choose from one of six amber-blackberry scented "conversation candles" by Ginger June ("I f*cking love you", "I like your butt", "Best Mom Ever", "Hey mom, you're a badass", and "Hey mom, I forgive you for my 90s bangs") or a sandalwood-eucalyptus scented candle with no text by Tule Fog.

Matches by Enlighten the Occasion 
Green-tipped 4" matchsticks inside of a mini glass apothecary jar with cork lid.

Perfectly packed in a white box with handwritten card.